Denise Gutierrez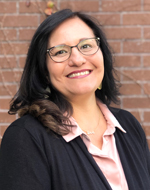 Denise M. Gutierrez began her educational journey at Chaffey Community College in Rancho Cucamonga, CA. She went on to achieve a Bachelor of Arts degree in Sociology and a Master's degree in Leadership and Management from the University of La Verne.
Prior to becoming the President and CEO for the California Council on Economic Education, Denise was the Director of Development for the College of Business and Economics at Cal State Los Angeles. Denise has over 15 years of higher education experience with an extensive background in institutional advancement, fundraising, and corporate and foundation relations.
Denise has served on a number of boards including the Esperanza Scholarship Foundation, National Latina Business Women's Association-Inland Empire, and Making Education the Answer (META) Foundation. Accomplishments include a Gold Council for Advancement and Support of Education (CASE) award for creating the first Latino Education Access and Development (LEAD) Conference at the University of La Verne, Spirit of La Verne Award for Inclusivity and Diversity, and 2014 Woman of the Year by Congresswoman Grace Napolitano's Office.